"Remember, you are what you are in the eyes of God, and nothing else."

Pray for me as I begin a new job at the VA hospital on Monday. One of my hopes is that with at least 4 pharmacists there at all times I won't have to dispense any birth control. I also hope the regular business hours allows me more time with my family. We'll see.
Posted bypiscotikus at 10:11 PM 0 comments  
I had an opportunity this evening to offer up a little suffering to God. It's something I've been working on to become holier. It's not easy, though it sounds easy, to say "I forgive you/them". But in practice, at least for me tonight, it wasn't easy.

It's times like these you really see how
much God loved us when you look at a crucifix and see Jesus dying (literally) to forgive us.
Posted bypiscotikus at 6:43 PM 0 comments  
Two of the past weekends I have had a great and powerful love for the Eucharist made present to me in the two parishes I've attended mass. I'd like to share them with you.

The first was 2 weekends ago at Ss. Peter and Paul Church in Auburn, NY. This is where I grew up and attended Catholic school and mass all during my childhood. I was home two weekends ago and went to Church with my mom and Grandma on Saturday evening. After I received communion I noticed as I was walking back to my pew, about 25% of the people behind me weren't going up for communion. Now while this may not necessarily be a good thing, what I took from this moment was that people still believe in the real presence and know that they shouldn't receive if in a state of mortal sin. It showed me that reverence is still strong in my home community.

This past weekend I went to Church at St. Mary's in Alexandria VA. As I entered there were signs on all the doors calling to attention the real presence in the tabernacle and to be quiet and turn off your cell phone. Then the priest explained in his homily why he doesn't use Eucharistic ministers (because his Church isn't big enough to require them) and it was the first mass I went to where the priest did not allow a sign of peace. Now I know a lot of people who would be offended by the removal of the sign of peace, but it was easier to contemplate the Eucharistic Jesus at that point in the mass. I think a sign of peace should be offered at the beginning of mass or at some point just after the homily. The Liturgy of the Eucharist needs to be focused on the Eucharist.

The Eucharist is a gift we take so much for granted these days. It no wonder people leave the Church when there is so little attention paid to the Eucharist. It is Jesus! Really and physically present like no other way. If we as Catholics don't live our lives desiring Jesus in the Eucharist every day, how can we expect to bring others to Christ?

I think I'm going to read ECCLESIA DE EUCHARISTIA and put up some commentary in the next few days.

Today is the first Friday of August. Why not find a Church offering adoration and spend some time with the Lord.
Posted bypiscotikus at 11:20 AM 1 comments  
Labels: Catholic, Chuch, Eucharist
Happy Fathers Day dads!

Wait a minute... Doesn't the Bible say Call no man Father? (Matt 23:9)

This verse is taken way out of context by anti-Catholics. It's also very easy to debunk. St. Paul even calls himself a father. For I became your father in Christ Jesus through the gospel. (1 Cor 4:15)

More.
Posted bypiscotikus at 9:08 PM 1 comments  
Labels: Catholic
Watching the finale of Survivor last night 2 things stood out to me.

First of all, Boo in his questioning of the final 3 addressed Dreamz and his Christianity. After Dreamz had accepted the truck from Yau-man Dreamz "promised to God" that he would give immunity to Yau. Wether or not Boo remembered that I don't know, but at the final tribal council he asked Dreamz 'as a Christian' wether or not he was playing Yau from the outset. Dreamz said he was. Boo said, "I still believe in you, but I still believe you're an immature Christian, and I hope that one day, you will be a strong Christian man and be able to tell the devil, 'Dangle all the money you want in front of me; this Christian is not for sale.'"

Props to Boo for bringing up his faith!

Secondly after Earl had won, and they were re-hashing the Dreamz betrayal, I noticed quite the groan and gasp from the audience when Dreamz said, I swear to God."

I can understand why people would gasp at such a comment, but I can harldy imagine that everyone who has gasped has never sworn to God and broken that promise. I wish Dreamz would have apologized for breaking a promise to God. However he didn't and like so many of us we make false promises and use God's name in vain all too often, wether we think we're good people of faith or not. We live in such a backward country. We have abortion on demand, pronography, povery all around us and yet we have the nerve to be 'shocked' when someone else breaks a promise to God. We need less pride in this world and more humility.

In the end Earl won and I was happy beacuse I liked Earl. We won without any backstabbing or trickery. Just one strategic move after another. I wish Yau would have won, but maybe on a all stars we'll get another opportunity.
Posted bypiscotikus at 2:57 PM 1 comments  
Great News


Thursday, May 10, 2007
500 priests will be ordained this year.

Article
Posted bypiscotikus at 8:53 PM 0 comments  
My next series of posts are going to deal with the beatitudes.

Marcus Grodi's weekly bible study Deep In Scripture did a great 5 episodes on the beatitudes. I encourage you to listen to them. They are free and you can find them in the archives.

For the time being just meditate on them.

Blessed are the poor in spirit, for theirs is the kingdom of heaven. 

Blessed are those who mourn, for they shall be comforted. 

Blessed are the meek, for they shall inherit the earth. 

Blessed are those who hunger and thirst for righteousness, for they shall be satisfied. 

Blessed are the merciful, for they shall obtain mercy. 

Blessed are the pure in heart, for they shall see God. 

Blessed are the peacemakers, for they shall be called sons of God.

Blessed are those who are persecuted for righteousness' sake, for theirs is the kingdom of heaven.

Blessed are you when men revile you and persecute you and utter all kinds of evil against you falsely on my account. Rejoice and be glad, for your reward is great in heaven, for so men persecuted the prophets who were before you.
Posted bypiscotikus at 8:24 PM 0 comments  
Labels: Bible
Today is Divine Mercy Sunday. It is very fitting we celebrate it on the Second Sunday of Easter. We need God's mercy. We thank him for it. We say Lord have mercy so much however we forget that we truly do need it.

We are sinners. Without God's grace and mercy we would be dead. It has been said, that if all the sin in the world were added together, it would be but a drop in the ocean of God's mercy. How lovely and infinite God's mercy is.

Thank you Lord for your infinite mercy. For the sake of His sorrowful Passion, have mercy on us and on the whole world.

Pray for God's mercy not only for yourself, but for all those who need it most.

More on Divine Mercy Sunday
Posted bypiscotikus at 10:30 PM 0 comments  
A child is born in an obscure village.
He is brought up in another obscure village.
He works in a carpenter shop until he is thirty, and then for three brief years is an itinerant preacher, proclaiming a message and living a life.
He never writes a book.
He never holds an office.
He never raises an army.
He never has a family of his own.
He never owns a home.
He never goes to college.
He never travels two hundred miles from the place where he was born.
He gathers a little group of friends about him and teaches them his way of life. While still a young man, the tide of popular feeling turns against him.
One denies him; another betrays him.
He is turned over to his enemies.
He goes through the mockery of a trial; he is nailed to a cross between two thieves, and when dead is laid in a borrowed grave by the kindness of a friend.
Those are the facts of his human life.
He rises from the dead.

Today we look back across nineteen hundred years and ask, What kind of trail has he left across the centuries? When we try to sum up his influence, all the armies that ever marched, all the parliaments that ever sat, all the kings that ever reigned are absolutely picayune in their influence on mankind compared with that of this one solitary life…


This is the original essay by Dr James Allan Francis in "The Real Jesus and Other Sermons" © 1926 by the Judson Press of Philadelphia (pp 123-124 titled "Arise Sir Knight!").
Posted bypiscotikus at 9:58 AM 0 comments  
Posted bypiscotikus at 6:57 AM 1 comments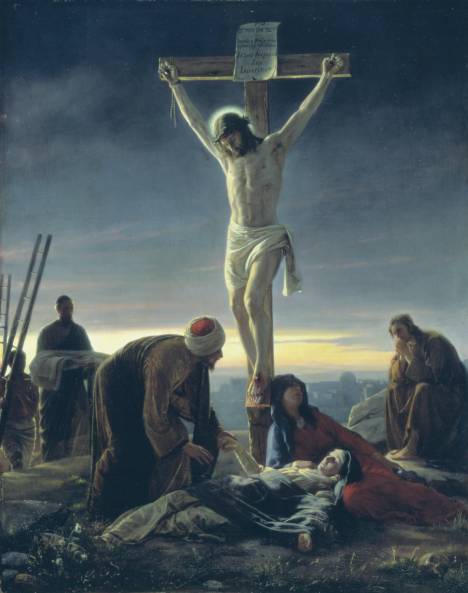 Look where Jesus is. That is where you will be too. Jesus told us to pick up our cross daily!

Suffering is a key element in Christianity. When you are anxious, or tired, or physically sick or injured and you wonder why... Look at a crucifix.

For the crucifix is the greatest evil and the greatest good all at the same time. It is a paradox. The evil, diecide. The good, Redemption.

Sit at the tomb of Jesus today. Pray.
Posted bypiscotikus at 6:43 AM 0 comments  
One thing that struck me when I heard the story of the prodigal son this week, was the forgiveness of the father. The absolute and complete forgiveness.

While he was still a long way off,
his father caught sight of him, and was filled with compassion.
He ran to his son, embraced him and kissed him.
His son said to him,
'Father, I have sinned against heaven and against you;
I no longer deserve to be called your son.'
But his father ordered his servants,
'Quickly, bring the finest robe and put it on him;
put a ring on his finger and sandals on his feet.
Take the fattened calf and slaughter it.
Then let us celebrate with a feast,
because this son of mine was dead, and has come to life again;
he was lost, and has been found.'

His father seemed to ignore what he had said. He just said "bring a robe". He could have cared less what the son did. His forgiveness was total and complete.

"Just so, I tell you, there will be more joy in heaven over one sinner who repents than over ninety-nine righteous persons who need no repentance."

God forgives us too. All we have to do is ask.
Posted bypiscotikus at 8:12 PM 1 comments  
Lk 15:1-3, 11-32

Tax collectors and sinners were all drawing near to listen to Jesus,
but the Pharisees and scribes began to complain, saying,
"This man welcomes sinners and eats with them."
So to them Jesus addressed this parable.
"A man had two sons, and the younger son said to his father,
'Father, give me the share of your estate that should come to me.'
So the father divided the property between them.
After a few days, the younger son collected all his belongings
and set off to a distant country
where he squandered his inheritance on a life of dissipation.
When he had freely spent everything,
a severe famine struck that country,
and he found himself in dire need.
So he hired himself out to one of the local citizens
who sent him to his farm to tend the swine.
And he longed to eat his fill of the pods on which the swine fed,
but nobody gave him any.
Coming to his senses he thought,
'How many of my father's hired workers
have more than enough food to eat,
but here am I, dying from hunger.
I shall get up and go to my father and I shall say to him,
"Father, I have sinned against heaven and against you.
I no longer deserve to be called your son;
treat me as you would treat one of your hired workers."'
So he got up and went back to his father.
While he was still a long way off,
his father caught sight of him, and was filled with compassion.
He ran to his son, embraced him and kissed him.
His son said to him,
'Father, I have sinned against heaven and against you;
I no longer deserve to be called your son.'
But his father ordered his servants,
'Quickly, bring the finest robe and put it on him;
put a ring on his finger and sandals on his feet.
Take the fattened calf and slaughter it.
Then let us celebrate with a feast,
because this son of mine was dead, and has come to life again;
he was lost, and has been found.'
Then the celebration began.
Now the older son had been out in the field
and, on his way back, as he neared the house,
he heard the sound of music and dancing.
He called one of the servants and asked what this might mean.
The servant said to him,
'Your brother has returned
and your father has slaughtered the fattened calf
because he has him back safe and sound.'
He became angry,
and when he refused to enter the house,
his father came out and pleaded with him.
He said to his father in reply,
'Look, all these years I served you
and not once did I disobey your orders;
yet you never gave me even a young goat to feast on with my friends.
But when your son returns
who swallowed up your property with prostitutes,
for him you slaughter the fattened calf.'
He said to him,
'My son, you are here with me always;
everything I have is yours.
But now we must celebrate and rejoice,
because your brother was dead and has come to life again;
he was lost and has been found.'"

Commentary to follow...

J + M + J
Posted bypiscotikus at 3:28 PM 0 comments  
J + M + J

Lent is here. We are in the middle of the second week.

How are you doing?

I'm doing ok. Trying to make Mass daily. I'm not fasting as much as I should, and I'm going to try and begin to do better tomorrow. I gave up chocolate, but that just means more sugar cookies.

I've been watching a series by Fr. Corapi; A Lenten Retreat.

In the second hour, he talks about the immorality of America. God will not tolerate our immorality. 9/11 will look like a walk in the park compared to what's coming. We need to wake up as a nation. Allowing abortion on demand will not be tolerated.

We have to have faith. What's faith? Think about that for a second. What is faith? Is faith believing in God? Well, that's a start. But the devil believes in God. So there must be more. The Catechism says, "In faith, the human intellect and will cooperate with divine grace: "Believing is an act of the intellect assenting to the divine truth by command of the will moved by God through grace."" (155).

Faith is assenting to the will of God. Believing is cooperating with the truth that is Jesus Christ.

Repent. Believe. That is the teaching of Christ. (Matt 3:2, 4:17)
Posted bypiscotikus at 7:47 PM 0 comments