My next series of posts are going to deal with the beatitudes.

Marcus Grodi's weekly bible study Deep In Scripture did a great 5 episodes on the beatitudes. I encourage you to listen to them. They are free and you can find them in the archives.

For the time being just meditate on them.

Blessed are the poor in spirit, for theirs is the kingdom of heaven. 

Blessed are those who mourn, for they shall be comforted. 

Blessed are the meek, for they shall inherit the earth. 

Blessed are those who hunger and thirst for righteousness, for they shall be satisfied. 

Blessed are the merciful, for they shall obtain mercy. 

Blessed are the pure in heart, for they shall see God. 

Blessed are the peacemakers, for they shall be called sons of God.

Blessed are those who are persecuted for righteousness' sake, for theirs is the kingdom of heaven.

Blessed are you when men revile you and persecute you and utter all kinds of evil against you falsely on my account. Rejoice and be glad, for your reward is great in heaven, for so men persecuted the prophets who were before you.
Posted bypiscotikus at 8:24 PM 0 comments  
Labels: Bible
Today is Divine Mercy Sunday. It is very fitting we celebrate it on the Second Sunday of Easter. We need God's mercy. We thank him for it. We say Lord have mercy so much however we forget that we truly do need it.

We are sinners. Without God's grace and mercy we would be dead. It has been said, that if all the sin in the world were added together, it would be but a drop in the ocean of God's mercy. How lovely and infinite God's mercy is.

Thank you Lord for your infinite mercy. For the sake of His sorrowful Passion, have mercy on us and on the whole world.

Pray for God's mercy not only for yourself, but for all those who need it most.

More on Divine Mercy Sunday
Posted bypiscotikus at 10:30 PM 0 comments  
A child is born in an obscure village.
He is brought up in another obscure village.
He works in a carpenter shop until he is thirty, and then for three brief years is an itinerant preacher, proclaiming a message and living a life.
He never writes a book.
He never holds an office.
He never raises an army.
He never has a family of his own.
He never owns a home.
He never goes to college.
He never travels two hundred miles from the place where he was born.
He gathers a little group of friends about him and teaches them his way of life. While still a young man, the tide of popular feeling turns against him.
One denies him; another betrays him.
He is turned over to his enemies.
He goes through the mockery of a trial; he is nailed to a cross between two thieves, and when dead is laid in a borrowed grave by the kindness of a friend.
Those are the facts of his human life.
He rises from the dead.

Today we look back across nineteen hundred years and ask, What kind of trail has he left across the centuries? When we try to sum up his influence, all the armies that ever marched, all the parliaments that ever sat, all the kings that ever reigned are absolutely picayune in their influence on mankind compared with that of this one solitary life…


This is the original essay by Dr James Allan Francis in "The Real Jesus and Other Sermons" © 1926 by the Judson Press of Philadelphia (pp 123-124 titled "Arise Sir Knight!").
Posted bypiscotikus at 9:58 AM 0 comments  
Posted bypiscotikus at 6:57 AM 1 comments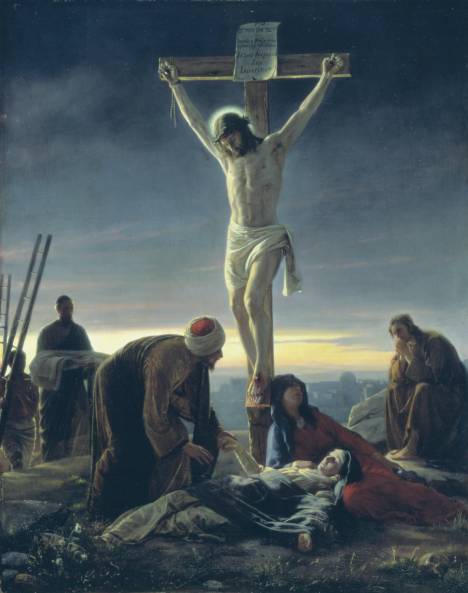 Look where Jesus is. That is where you will be too. Jesus told us to pick up our cross daily!

Suffering is a key element in Christianity. When you are anxious, or tired, or physically sick or injured and you wonder why... Look at a crucifix.

For the crucifix is the greatest evil and the greatest good all at the same time. It is a paradox. The evil, diecide. The good, Redemption.

Sit at the tomb of Jesus today. Pray.
Posted bypiscotikus at 6:43 AM 0 comments